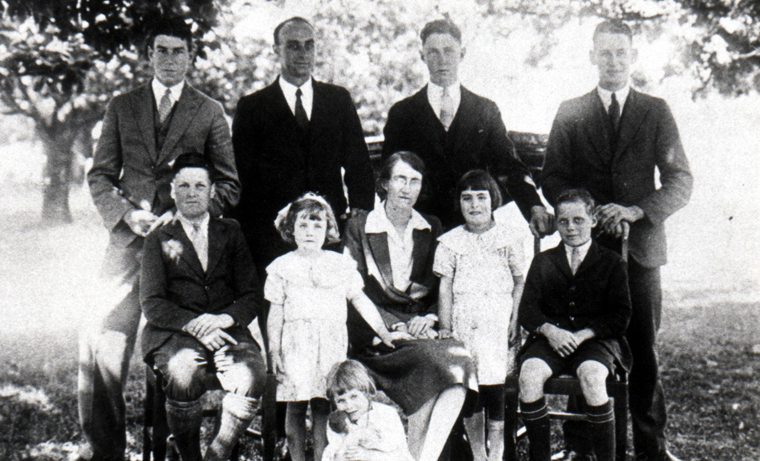 The return in 1929 of Charles Fitzroy (Roy) Walker, his wife Ethel and their three young daughters (pictured here with five boarding students) heralded a remarkable period of time for Box Hill Grammar School.
By the end of 1928, the school's council had persuaded Walker to return to the role of headmaster on the understanding that a new school site was being purchased and support for the school's survival would be undertaken by the Methodist Church. He knew the sweeping 24-acre tract of land in Station St had enormous potential.
C.F. Walker was a devout Methodist who believed in the importance of family. He also had a remarkable capacity for hard work. Teamed with a fierce intellect, progressive ideas and strong leadership skills, Walker had the key strengths needed for a school that had been dogged by instability.
He'd previously taught at Scotch College and had studied (through night school) for postgraduate degrees in education. At first, he designed the curriculum around traditional subjects, however he soon adopted a more creative, lateral approach which focused on the development of the 'whole' student.
Walker's leadership was enhanced by the steadfast support of his wife Ethel (who cared for the couple's own growing family and also ran the school's boarding house), a strong staff, and a highly-capable senior master and school administrator, Rupert Brunning.
Under this team, Box Hill Grammar School was about to enter a long stretch of stability where students were offered an inclusive, innovative curriculum, co-education and a remarkable degree of educational freedom.