Charles Fitzroy Walker's reign as the longest serving headmaster of Box Hill Grammar School ended at the close of 1963.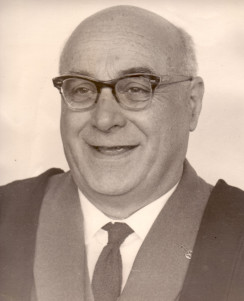 While Walker had successfully managed a remarkable era in the history of Box Hill Grammar School, by the end of the 1950s his leadership skills were diminished. There was need for renewal and pressure for change.
Melbourne's two other Methodist schools – Wesley College and Methodist Ladies College – were booming and this was not lost on the Methodist Conference or the school's council who knew that growth at Box Hill Grammar School had stalled.
Walker had agreed to retire at the end of 1965 but was resistant to the quick, early retirement that the council and the Methodist Conference were seeking.
However he had once declared that if the school ever reverted to being an 'all-boys' school he would resign. 'If girls go, I go,' he'd declared.
While there were valid, financial reasons to change to a boys' school, putting this policy into place early offered the council opportunity to force Walker's early exit.
In 1961, the school council made the decision to discontinue the enrolment of girls at Box Hill Grammar School at the end of 1963. With this decision, Walker took early retirement.
Dick Cotter, in his book 'Farmers, Ringmasters and Builders' writes of Walker's departure:
'There seems little doubt that the school had deteriorated but there were many whose memories stretched back to the 30s and 40s. They felt that the man who came to eschew the popular mystique attached to rigid discipline, academic excellence, competitive sport, separate education for girls and boys and conventional opinions, deserved better treatment.'
Immediately following his retirement, Walker and his wife spent several weeks with their daughter Anne who was living in Fiji.
Anne Walker recalls:
"Dad visited several schools and took a great interest in what was being undertaken in them. In fact he was offered a job in the top school for Fiji girls, Adi Cakobau School, but made a decision not to accept that offer.
On his return to Box Hill, they lived at 352 Station St – opposite the school – in a house that Dad had bought many years before. (Our grandmother) lived in this house for decades, along with many of us as we left school and went on to college or work.
He then set about organising archives of his life's work, writing a short book on education, and working on a business plan and project that involved supplying a more effective mail box for country farmers. He also had an active interest in political and global affairs, especially the opening up of China and the development of that country."
C.F Walker's retirement was to last only seven years – his final year was one of illness as he battled cancer and he passed away in 1971.
His wife Ethel continued living at 352 Station St until she moved into an aged-care facility where she passed away in 1984.
Her family remembers 20 years of active family involvement following her retirement from the school.
"She always was the heart and core of the family as mother, mentor, supporter, wise counsellor and became even more so in those years. She also took up crocheting, a long time interest that she found very relaxing. She also used to spin fleece, preferably dark coloured ones, as knitted homespun jumpers and scarves were the go.
There were frequent visits from former boarders, who would arrive at the house to see her, some who were visiting Melbourne from  countries such as Papua New Guinea, Hong Kong, Fiji, and others from interstate and rural areas across Victoria. She was indeed the 'mother of us all' and greatly loved by hundreds of people who had grown up as children under her care at the boarding house of Box Hill Grammar School."